Interior Home Remodeling Services
Ready to bring out the best in your home? P&L Construction Services, Inc. offers comprehensive home remodeling services for property owners looking to make the most of their biggest investment. Updating your house not only increases its market value, but it also adds functionality and aesthetic appeal. Our experienced contractors can transform even the most drab, dated rooms into stylish, functional living space the whole family will love.
Contact us at (847) 361-6306 today to get a free quote on a project in Northbrook, Glenview, Park Ridge, and nearby areas of Illinois. We will work with you to design the home of your dreams — on your budget.
Kitchens usually are the center of activity in a home, even if they weren't designed for it. P&L's team of home remodeling specialists can transform your kitchen into a welcoming space befitting its status, whether that means rethinking the layout or updating the style to meet your needs. The options are endless: Our craftsmen install cabinets, countertops, flooring, and much more. Don't tolerate your "good enough" kitchen any longer. Let us help make it great.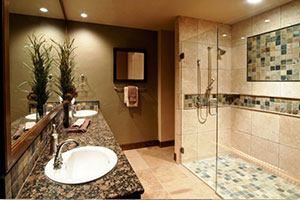 If your bathrooms aren't up to snuff, bring in P&L to address the situation. Even something simple, like choosing a new wall color, can improve the ambiance. Our expertly executed bathroom renovations run the gamut from installing a new tub, vanity, or flooring to building a powder room where you need it most. From modern and sleek to traditional and elegant, we accommodate any style of bathroom remodel.
Isn't it time to make use of that empty space downstairs? Talk to our experts, and you'll be surprised at how affordable finishing a basement can be. Within weeks, a contractor from P&L will transform your unfinished area into a rec room, office, guest room, or entertainment area. Dramatically increase the amount of space you have in your Northbrook home for family and friends without breaking the bank.
Get a Free Home Remodeling Quote
Our residential and commercial remodeling crews love what they do, as you can tell by the reviews of our work from customers in Northbrook, IL, and other Chicago suburbs. If your house needs some TLC — whether it's interior renovations or exterior improvements — we are ready to exceed your expectations. Call P&L today at (847) 361-6306 for a free estimate.